Hazardous Waste Transfer Station
Only recently constructed, Carr Crofts Waste Treatment Facility has become the go-to place in Leeds and the North of England for innovative Hazardous Waste Recycling, Treatment, Transfer and Disposal solutions.
Recycling and Treatment
Difficult to handle and treat hazardous wastes have been at the heart of our business for over 20 years and we pride ourselves on being at the for front of cutting-edge recycling and treatment processes offering our customers the most up-to date cost effective, Best Available Techniques (BAT) and solutions for their difficult to handle and treat industrial waste streams.
Analysis and Waste Classification
In-house analysis and classification of wastes by our experienced on-site chemists and industry professionals allows us to provide a bespoke total waste management service for anything as simple as the collection and removal of a drum of waste oils all the way up to a full site waste audit, analysis, classification, removal and site decommission.
Our fleet of bespoke transport vehicles and fully trained ADR drivers are on hand to ensure the safe and compliant collection and removal of all your wastes ensuring there are no disruptions to your daily site activities during the waste disposal in Leeds and the North process.
We are always on hand to help and advice you on the most cost-effective and compliant solutions for dealing with your hard to handle Hazardous and Non-hazardous Packaged and Containerised plus Bulk Liquid Effluent waste in Leeds and the North.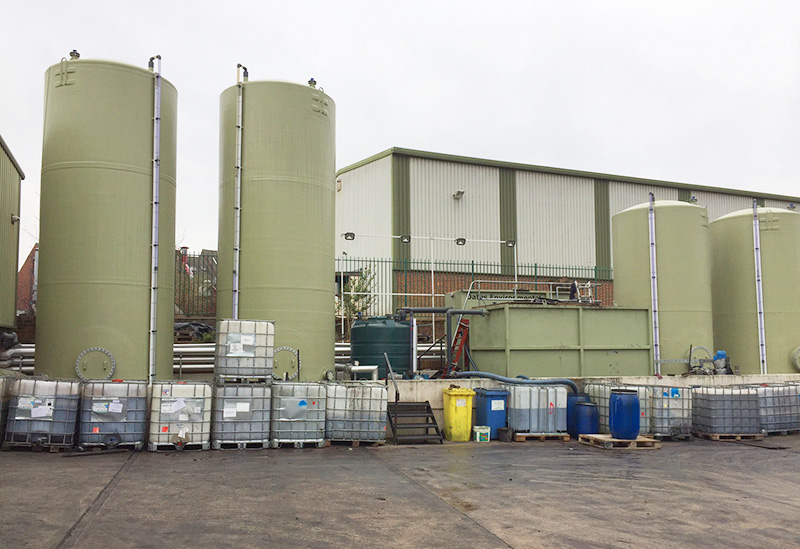 Carr Crofts Waste Treatment Facility is a bespoke hazardous waste transfer station purpose built to be fully compliant with the latest technical guidance "Appropriate Measures for Permitted Facilities".
The facility can store up to 670,000kgs of Hazardous and Non-Hazardous wastes in both dedicated bulk liquid effluent storage tanks and or in packaged containers (IBCs/Drums) within dedicated bunded waste bays with the appropriate segregation and fire protection in place to prevent mixing of incompatible wastes.
The site is built on an impervious concrete pad with complete site secondary bunding plus perimeter tertiary bunding and a sealed site drainage system with the facility having also its own private dedicated service/access road leading to off-site parking for HGV vehicles.